Phase 5 // 2012
---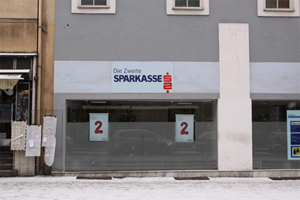 Pic.: zweintopf
The artists' duo zweintopf, which runs a studio in the Keplerstraße, has been present with interventions into the public space of the Annenviertel for years. Early in 2012, it has carried out 3 small interventions in the Annenstraße. These are comments on individual buildings and establishments which imply the bigger picture. What they mean are both changes in the Annenstraße and changes in values within our society in general.

zweintopf, artist duo, living and workin in Graz

---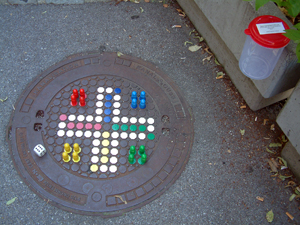 Pic.: Veronika Tzekova

>> SPACE APPROPRIATOR 4 /KD Ludo
(# 1,2,3,4,5)

Urban Game

by: Veronika Tzekova
Locations: Youth Center YAP (Orpheumgasse), Mariahilferplatz, Marienplatz / Graz

Photos of the interventions



Urban interventions called "Space Appropriators" are developed in the shape of outdoors games of simple media, encouraging spontaneous social interactivity with the urban surrounding. It turns patterns of various ground covers into ludo boards by adding color stickers on the relief pattern of the floor so to form the ludo board model.

In June 2012, Veronika Tzekova introduced the KD Ludo series in several locations in Annenviertel in Graz on the occasion of the project ANNENVIERTEL! The Art of Urban Intervention.

Veronika Tzekova (*1973), lives and works in Sofia (Bulgaria).




---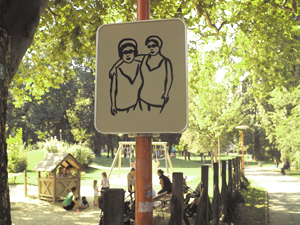 Pic.: Petra Varl
Petra Varl recently started a series of drawings that enrich the public space with unusual 'behaviour guidelines': "Here you can kiss each other!", "Fathers! Take your children by the hand", "This is a place for friends!" - to just mention a few. Those urban signs aim to enrich public space and bring a playful, loving touch.

In all the pieces, it's about how people are in relation towards each other, how they communicate and how they get into contact with their environment. Social behavior of individuals, couples and small groups, their relations, their closeness, or their friendships are being focused on.

Petra Varl (*1965), lives and works in Maribor and Ljubljana (Slovenia).
<<