How is a sense of unity—"we"—actually created? What relationships and networks are behind this in a neighbourhood? The project "Viertelpalast [Quarter Palace] & School of the We" takes place at five locations in the Annenviertel area. At every location, artists are conceiving a stage-like object. From the beginning of May 2021, the locations will be festively opened one after the other.

For several months, programmes will be carried out in all five locations with the involvement of local protagonists and institutions. There can be play afternoons, reading groups, workshops, parties, theatre plays etc. or simply coffee rounds. The population of Graz is expressly invited to make use of the by then created spaces!

The premises of < rotor > in Volksgartenstraße will be used and offered as project headquarters for meetings, exercises, workshops, as a reading room, workspace and palace kitchen from march 2021 on. By then, individuals and groups are cordially invited to take part in tours visiting the locations in the district and the programmes of "Viertelpalast & School of the We"!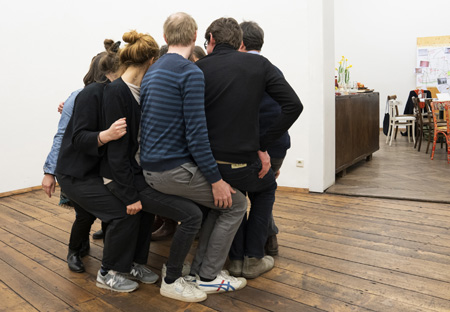 Exercise during a round table for the preparation of the project (Photo: Karin Lernbeiß)

Project conception: Daniela Brasil, Alessandra Pomarico, Margarethe Makovec & Anton Lederer and numerous contributors of brainstorm meetings, round tables and talks in the neighborhood