An Art and Cultural Project on Conviviality.
From the Annenviertel Neighbourhood in Graz
to Planet Earth

* * * * * * * * * * * * * *
Exhibition in < rotor >: 30.4-31.7 + 23.8-18.9.2021
Artists:
Nayari Castillo, Catherine Grau / Zoe Kreye, Grossi Maglioni, ILA, Karin Lernbeiß, RESANITA, Daniela Brasil with Mara Lea Hohn / Delaine Le Bas, Sophie Krier, Ayumi Matsuzaka
Opening hours: MON– FRI 10:00 – 18:00, SAT 12:00 – 16:00
Closed on Sundays and holidays
Free entry!

* * * * * * * * * * * * * *
Public spaces in the Annenviertel neighbourhood
Impressions of the five "islands of conviviality"
Lendplatz: 14.5.-17.10.
Eliana Otta
Platz der Begegnung: 15.5.-17.10.
Nikolay Oleynikov
Orpheum: 29.5.-17.10.
Aleksandra Czerniawska
Metahofspitz: 29.5.-17.10.
studio ASYNCHROME
Marienplatz: 5.6.-17.10.
minipogon
Guided tours: < rotor > und public space,
with registration, as soon as the Covid-19 regulations allow
Registration: rotor@mur.at, 0316/ 688306

* * * * * * * * * * * * * *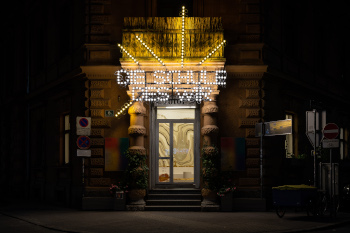 Light installation by RESANITA above the entrance (Photo: T. Raggam)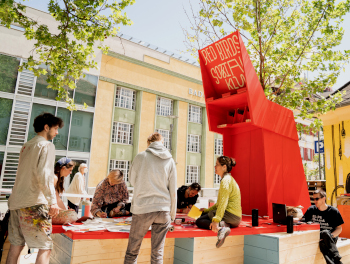 "Red Birds Sozial Klub" by Nikolay Oleynikov (Photo: Karin Lernbeiß)
These are some of the issues that The School of the We—a title borrowed from Mathias Heyden's reflections on the commons in urban settings—will engage and experiment with, beyond social fragmentation, and the logic of the nation, the state and the market.
Across the Annenviertel neighbourhood, in five locations, the "islands of conviviality" created by artists will emerge and address site-specific questions and orientations. These temporary structures, realized with the participation of many neighbours, are to be used, inhabited, and enjoyed by everyone.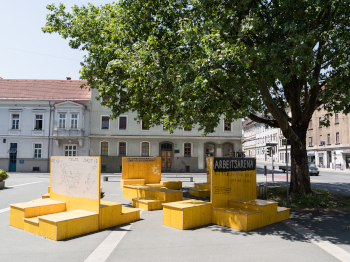 Island designed by minipogon at Marienplatz (Photo: Karin Lernbeiß)

Sketch by Catherine Grau / Zoe Kreye for the entrance room
In the gallery space of < rotor > the artists will also offer sensorial and immersive experiences to the visitors, inviting them to participate with their creativity, interacting with their pieces or taking action in the workshops. The times in which our senses are numbed and we are confined in solitary activities will pass!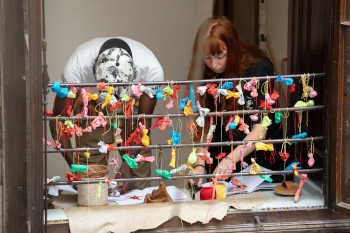 Ritual by ILA at the window to the atrium (Photo: Thomas Raggam)

* * * * * * * * * * * * * *
All involved artists:
Nayari Castillo
Aleksandra Czerniawska
Catherine Grau / Zoe Kreye
Grossi Maglioni
Karin Lernbeiß
minipogon
Nikolay Oleynikov
Eliana Otta
RESANITA
studio ASYNCHROME
Daniela Brasil
Mara Lea Hohn / Delaine Le Bas
Sophie Krier
Ayumi Matsuzaka
Involved organisations:
Amsel - Arbeitslose Menschen suchen effektive Lösungen (unemployed people seek effective solutions)
Annenpost / Journalism and Public Relations / FH Joanneum
ARGE Jugendstreetwork Graz (youth streetwork)
Bäuer*innen Lendplatzmarkt Graz (farmers' market organisation)
Büro der Nachbarschaften / Gottesacker
Caritas of the Diocese Graz-Seckau
DIVAN - Beratungsstelle für Frauen und Mädchen (counselling centre for women and girls)
KAMBUKE - Arbeitsmarktintegration für Roma und Romnia (labour market integration for Roma men and women)
Mobile Integrationsbetreuung (mobile integration assistance)
DANAIDA - Bildung und Treffpunkt für Frauen (education and meeting point for women)
DruckZeug
Frauenservice Graz
Jugend am Werk Styria
JUKUS KLEX - Klusemann Extern
Lendwirbel
LernLAB / KUNSTLABOR Graz / uniT
Megaphon
MS St. Andrä Graz
Orpheum / Grazer Spielstätten
Ortweinschule Graz / Master School for Art & Design / Painting & Ceramic Design
Radio Helsinki 92.6 - Freies Radio Graz
Risograd
Graz City Library - Zanklhof
Urban District Association ANNENViERTEL
YAP - Young Active People
et al.

THE SCHOOL OF THE WE was convened by:
Alessandra Pomarico, Daniela Brasil,
Margarethe Makovec & Anton Lederer
and numerous contributors in brainstorm meetings, round tables, artists' visits, project team and community meetings and explorations in the neighbourhood.

* * * * * * * * * * * * * *
THE SCHOOL OF THE WE is a project by < rotor > centre for contemporary art within the framework of: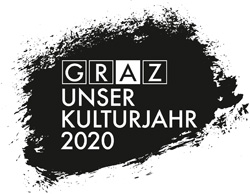 In-kind sponsors:
Wood Industry Schafler,
WKO-Association of the Austrian Wood Industries, Steiermark,
PORR Bau GmbH

* * * * * * * * * * * * * *