Moreover, there will be organized a Coffee to help within the framework of the project "Clothes Swapping & fashion.re.create".

Coffee to help is a special way of inviting for coffee or rather drinking coffee. Because coffee to help means to share the enjoyment: at home, in the office, in school or (of course) in the coffee-house you can improve the world a little and help children from Eastern Europe to a better future by donating money while enjoying a cup of coffee or a piece of cake.
The ingredients of this event are simple: < rotor > serves coffee and cake to the visitors of the event. The coffee drinkers are incidentally invited to give a donation for children in need.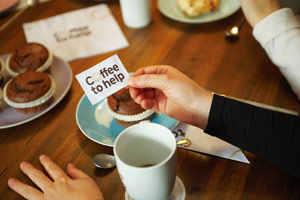 Further information on www.coffeetohelp.at >>


This event is made possible through special support by:

Grüne Wirtschaft
Die Grünen
Grüne Akamedie
Stadt Graz Frauenreferat
ONOMATO
Caritas Diözese Graz-Seckau
Druck Khil Graz
STROSS